Women at the Top: Powerful Leaders Tell Us How to Combine Work and Family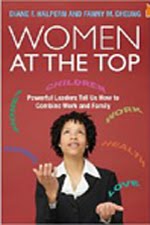 Very few women make it to the top of their profession and among those that do, almost half have no children or other caregiving responsibilities. The message for working women everywhere has been clear—to make it to the top you have to pick one—your family or your career. In this groundbreaking book, two experts present a new look at how women can create dually-successful lives. Women everywhere would like an answer to the universal question of how to succeed in their profession when they are also wives, mothers, and family care givers. Using the best psychological research and personal interviews with 60 women with families and prominent leadership positions in the U. S., China, and Hong Kong,
Women at the Top examines the most pressing question of our time—can women have it all?
Link to Purchase on Amazon.com
Publisher Information
Praise for
Women at the Top: Powerful Leaders Tell Us How to Combine Work and Family
"Women at the Top offers remarkable insights into how women with family responsibilities have attained top positions. The women profiled in this book succeeded, despite encountering many challenges. Their routes to the top in the United States, China, and Hong Kong were shaped by differing cultural constraints. Yet creativity and thoughtful problem-solving helped all of these women to 'have it all.'"
–Alice Eagly, Northwestern University; author of Through the Labyrinth: The Truth About How Women Become Leaders
"We've come a long way! Women can have it all! This is a book about resilience and defying the odds. The authors have brought together diverse perspectives using women's stories to create a new vision for women leaders—successfully combining work and family. No more guilt trips; mothers as role models and mentors are instrumental to their success."
–Jean Lau Chin, EdD, ABPP, Dean and Professor, Derner Institute for Advanced Psychological Studies, Adelphi University
"This book is a refreshing blast against those who tell women 'you can't have it all.' Based on absorbing interviews with women at the top, the authors offer a wealth of advice for women who aspire to the "O" level - CEO, CFO, etc."
–Stephanie Riger, Professor of Psychology and Gender and Women's Studies, University of Illinois at Chicago
"Diane Halpern and Fanny Cheung bring us a well-researched, inspiring look at Women at the Top. These 62 women, from China, Hong Kong, and the US, are smart yet down to earth, committed yet compassionate, tough yet flexible, idealistic yet reasonable, admirable yet human, and simply downright likeable. They have had their share of highs and lows. Still, their lives give us reason to hope that women, indeed, can have it all."
–Jean Lipman-Blumen, Thornton F. Bradshaw Professor of Public Policy and Professor of Organizational Behavior, Peter F. Drucker & Matsatoshi Ito Graduate School of Management, Claremont Graduate University, author of Connective Leadership: Managing in a Changing World and The Allure of Toxic Leaders
"Women at the Top is a well-written book that provides great reassurance and encouragement for women embarking on the duel tasks of balancing family life and professional ambitions. It offers a sound guide for women who aspire to flourish in both roles, and it will benefit the child, husband, family, company and society, as well. Valuable personal advice is woven into each chapter from high-achieving women who